New hampers for spring babies
Author: Helen Date Posted:6 October 2015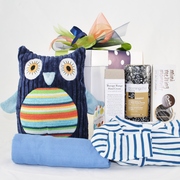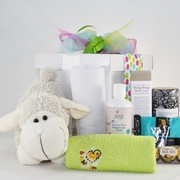 Spring is nature's way of saying, "Let's party!" Robin Williams
Is it my imagination or are more babies born in September than at any other time of the year? Of course, September does comes nine months after Christmas and New Year. But September certainly seems busy at Hamper Me with baby hampers as the number one hamper of choice.
Baby hampers are also my favourite hamper. No matter how old you are, fluffy toys are still cute and make you go, 'Awww.' So with such a demand, I thought it was time to add a few new ones to our product list.
We created Larry Lamb for those customers who want a hamper delivered before the imminent arrival, where the sex of the baby is not known. Larry's neutral colour scheme is suitable for a boy or a girl. As well as a plush soft toy lamb called Larry, this hamper includes a white cotton muslin wrap; organic baby shampoo and wash; a face washer; cocoa vanilla & cassia hand cream; silk tea bags; a chocolate chunk cookie and Ferrero Rocher chocolates.
And then we've upped the 'cute factor' with the Hoot Hoot Henry and Holly Owl hampers. These hampers have the traditional 'blue for boys' and 'pink for girls colour schemes' and are packed with goodies for baby and Mum. They include a navy or pink and purple striped toy owl; a 000-sized Bonds Wondersuit; a muslin cotton wrap; hand cream; a tin of silk pyramid infuser tea bags and choc-salted caramel melting moments.
As always, these hampers come in quality gift boxes which are hand-decorated with colourful wrap bands, and organza and satin ribbons. When you place an order, don't forget to include a message for the personalised gift card.
A newborn is a gift. Why not spoil a new mum with a quality hamper from Hamper Me!
---
Leave a comment