Mothers Day 2015 - Mothers are very special people
Author: Helen Date Posted:29 April 2015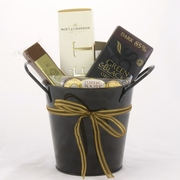 Mothers are very special people
'If evolution really works, how come mothers only have two hands?' —Milton Berle www.communitytable.com
A mother needs to be a nurse, tutor, chef, psychologist, chauffeur, sports coach, counsellor, friend, housekeeper, fashion stylist, loan officer, party planner, hygiene consultant, referee … and the list goes on. I'm sure I didn't fully appreciate my mother until I became one myself. It's a 24-hours-a-day, 7-days-a-week job where you don't get paid or have sick leave or long-service leave. Most mums wouldn't have it any other way but it's nice for them to know they're appreciated. So to remind people to say thanks to their mums for all that multi-tasking, Mothers Day was invented. Well, that's not entirely true, but Mothers Day is an opportunity to recognise this very special person.
Hamper Me has a beautiful range of gourmet gift hampers suitable for your mum and we can deliver directly to her door. Two of our brand new hampers are the Moet Gold which includes a 200ml bottle of Moet & Chandon, chocolates, fudge and chocolate-coated macadamias, and Luscious Scents containing an aromatherapy diffuser, mist room spray, candle, lip balm, perfume, hand cream, chocolate-covered macadamias, melting moments and tea.
As always, our hampers are presented in our signature style — individually hand-decorated using colourful wrap-bands and gorgeous ribbons to make your gift extra special.
To see our full range of hampers on offer, visit our website at www.hamperme.com.au. Ordering is easy. Don't forget to add your Happy Mothers Day message which will be printed on the personalised gift card. And order by Wednesday 6 May to make sure your gift hamper arrives in plenty of time for Mothers Day on Sunday 10 May.
---
Leave a comment