Hoppy Easter
Author: Helen Date Posted:26 March 2015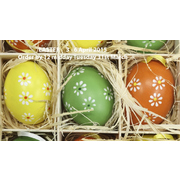 Hoppy Easter
Easter has different meaning for different people. For some it is a religious occasion, for others it's a time we share with family and friends. We all know what it means to most kids – school holidays and chocolate! And for those of us who've been on diets after over-indulging at Christmas, it's a good excuse to 'have a little treat'.
As the sweet scent of chocolate fills the air in our stockroom, it's very tempting to sample some of our products. Lots of chocolate bunnies are waiting on our shelves and soon they'll be hopping out the door inside some of our special Easter hampers. The Lindt basket and the Bucket of Eggs are our most sought-after hampers at this time of year. Kids love the Easter Surprise Box which is three stacked boxes full of chocolate eggs, then hand-decorated in bright, citrusy colours. Show someone you care by sending them our Easter Honey Bunny hamper complete with a plush stuffed rabbit and an assortment of mouth-watering chocolates from Lindt, Darrel-Lea, Chocolatier and Cadbury. For a more sophisticated gift, try a Bailey's Easter, or for the true chocoholic, the ever popular Death by Chocolate or Chocolate Bliss hampers. There really is something for everyone.
Another lovely idea is to have one of our beautifully decorated hampers sent to your own address so you can take it as a gift to your Easter celebrations. You can even pretend you wrapped it and tied the bows yourself. That should impress!
Don't forget to order early to avoid disappointment and remember to allow time for our couriers to deliver your orders. The cut off for Australia-wide delivery is 12 pm Tuesday 31 March, and for local Brisbane deliveries 10 am Wednesday 1 April.
Whatever you are doing this Easter break, stay safe and enjoy.
Helen
---
Leave a comment