Corporate Gifts
Author: Helen Date Posted:16 June 2015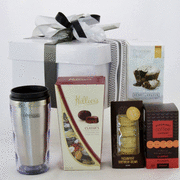 Corporate gifts
We're almost at the halfway point of the year! It's time to think about tax returns and the end of the financial year. EOFY sales are starting to pop up everywhere in shopping centres and online. And the powers that be tell us that the retail and real estate sectors are showing improvement which is great news.
It's also a time when our corporate sector likes to reward its employees for a job well done over the past 12 months. This is great for morale. Who doesn't like to know they are appreciated? Many business owners send hampers to their customers at this time of year too. This custom keeps us very busy at Hamper Me where we take the hassle out of organising our clients' gifts of appreciation. When bulk orders come in, it's a team effort to make sure we have the stock in place and enough hands to decorate each hamper. Sometimes, the hampers are sent directly to the client to be distributed, but often they are couriered to individual addresses. Logistically, this involves a lot of organisation.
Corporate hampers can be decorated in company colours too. The hampers always look so smart with their matching wrapping and ribbons, lined up on the shelves, waiting to be delivered to the lucky recipients. And of course, there's a discount for bulk orders. Just ask when you place your order to see if you are eligible.
So what do we have on offer for our corporate sector? The Wine Lovers hamper is one of our popular corporate gift hampers. It includes peanuts, cashews, truffles, chocolate-coated macadamias and a bottle of wine (a choice of three types). For a no-alcohol option, many clients choose the Coffee Indulgence hamper which comes with a travel mug for coffee on the go, Byron Bay gourmet coffee, chocolate lava cakes baking mix, passionfruit shortbread cream cookies, and assorted chocolates. For extra special employees or VIP customers, our corporate clients like the Barrington. This hamper is sure to impress with its gown-sized box containing a variety of treats such as two bottles of wine, gourmet nibbles, coffee and tempting sweets. It's excellent value too.
You're employees are your greatest asset and where would you be without your loyal customers? Let them know how much they are valued and surprise them with a beautiful gift hamper from Hamper Me.
Helen
---
Leave a comment