Corporate Christmas Hampers
Author: Helen Date Posted:28 June 2019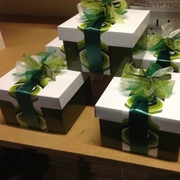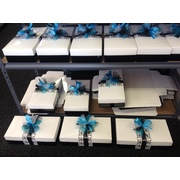 Have a very Corporate Christmas
It's the time of year when we start thinking about all things Christmas: Christmas parties, Christmas presents, Christmas holidays, Christmas shopping (no let's not think about the shopping). In the business world, as well as running a company, making sales targets and fulfilling orders and contracts, employers and suppliers are wondering how they can reward their staff or say thank you to their customers for their support throughout the year.
The solution is a gourmet gift hamper from Hamper Me.
Our sharing hampers are perfect for a small staff who like to get together for drinks and nibbles to celebrate the end of another year. I suggest our Fifth Day of Christmas hamper which includes delicious Australian products, such as Tasmanian sparkling wine, rum balls, brownies, shortbread, various nuts, chocolates and fudge.
If a more individual gift is required, try Christmas Cheer with a bottle of wine, nuts and chocolates or a Hamlet which has a little gourmet taste of everything. Most of our hampers can be adjusted to cater to personal tastes – just ask us. Many hampers have the option to choose from a wine list when you place your order.
And if a Christmas theme is what you're after, we have a plethora of hampers to choose from. From traditional ones with Christmas puddings, such as the Pudding and Brandy Custard hamper, to more personal tastes, like Nuts about Christmas, you will find them all on our website.
We can organise delivery of bulk hampers to one location or to multiple addresses. Hampers can be decorated in corporate colours and/or with a Christmas theme. These always look spectacular in our workroom when they are waiting to be boxed up.
Cut off dates for bulk orders will be Friday the 4th December. For bulk enquiries or quotes please send an email to enquiries@hamperme.com.au or phone 1300 085 949.
Looking forward to hearing from all our corporate customers,
Helen