Easter is Early in 2016
Author: Helen Date Posted:2 March 2016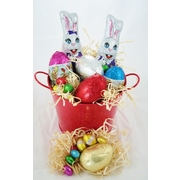 Easter Eggs Hamper Me Style
The world has become a smaller place. Plane travel has made it easier for people to live in different parts of the globe. But Australia, being at the bottom of the world, is still a long way for people to travel from the northern hemisphere. So for many families, it is not easy to get together for special occasions such as Easter. And sending gifts by mail is expensive and riddled with potential problems: Will my gift arrive in time? Will it arrive at all? A simple solution is an Easter basket from Hamper Me.
For many of our international customers, being able to purchase an Easter-themed chocolate gift decorated in gorgeous colours including a gift card with their personal message is a godsend. It's a simple process for them to select their gift from our range of Easter hampers on our website, provide the recipient's address and add their words of love to be typed on the card. The rest is up to us. Their basket is made to order by our team of experienced hamper decorators, then carefully packed in protective layering and boxed up for its journey to the lucky recipient. We arrange its transport via one of our trusted couriers so that it reaches its destination on time for the occasion.
One of our customers wrote to us from the US recently to thank us for helping with a gift for his father. 'It means so much to someone like me that lives so far away.' It brings great pleasure to know that our service helps make others happy.
With Easter being early this year, it's important to start thinking now about reaching out to family and friends if you can't be with them. Please keep in mind that the last date to place orders for your Easter hampers is by noon on Wednesday 22 March, 2016. To choose your preferred hamper, go to http://www.hamperme.com.au/Easter-Gift-Hampers.html.
Wishing all our customers far and wide a happy and safe Easter holiday,
Helen and the team at Hamper Me
---
Leave a comment